​​
Please consider making a tax free donation to the Emily M Lyman Foundation using the  "Donate" button or by writing a check made out in the foundation's name

Donations may also be made via a credit card by filling in the donation form.

All checks and forms should be mailed to the following address:
        Emily M Lyman Foundation
        Att: Monica Lyman
       320 Caldecott Lane #115
       Oakland, CA 94618
​ 
100% of your donation will go towards the foundation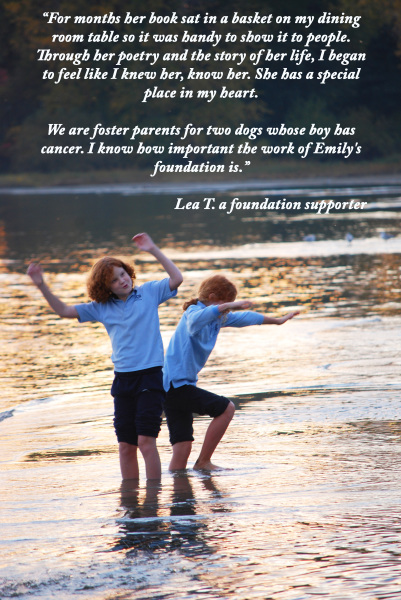 ​​​​
"For the past 12 years, I have been the Music Director at Camp Ta-Kum-Ta, and  it is in that capacity that I write to thank you for the extraordinary generous gift of the camp's wonderful new song books.

We sing at every meal, which means that we are treated to Emily's smile and her poetry, and to a book that is such a lovely tribute to her.

How fitting that every time we sing - songs of laughter, songs of joy, songs of healing - we are doing so in a way that honors the memory of your daughter.
​
Her legacy is secure in our hearts, in our memories and in our music."